Summary: Learn about key points to know about growing an Educational YouTube Channel.
Starting an Educational YouTube channel is a piece of cake but growing it needs hard work. At the same time, if you are unaware of the strategies required to make an educational YouTube channel successful, all your hard work will go in vain. It will result in depression and ultimately make you stop creating educational videos.
Personally, I don't want this. I want a large number of teachers teaching on social media platforms like YouTube because it makes a difference in students' life as well as in Teacher's Life. This is why I am on a mission to bring teachers on YouTube and make them successful. In this article, I am giving 10 tips to make an educator successful on YouTube. I believe it will help you.
1. Start with one subject
A course has many subjects and a subject has many topics. Being a teacher you can teach many subjects of a course. I advise to start with one subject and once you are successful start teaching one more subject.
Why not start teaching a course?
For example, you can teach computer networking and computer programming of computer science course. When you are starting your educational YouTube channel if you start publishing videos for both subjects your audience will find it very difficult to follow your channel for one subject.
While starting with one subject will give a clear message to your audience that if you want to learn that particular subject your channel is perfect for it. Once, you are successful in teaching one subject, you can always start teaching another subject.
Why not start teaching with a topic?
A topic is a small part of a subject. Usually, a topic can be covered in less than 10 videos. This means we will create only 10 videos. My experience says that 10 videos are not sufficient enough to make an educational channel successful.
2. Create content only for a specific audience
Even if you have decided to select one subject for your educational YouTube channel its very important that you also select your target audience. For example, you can teach Class XII mathematics for two different audiences, one, class XII students and second, students preparing for IIT-JEE.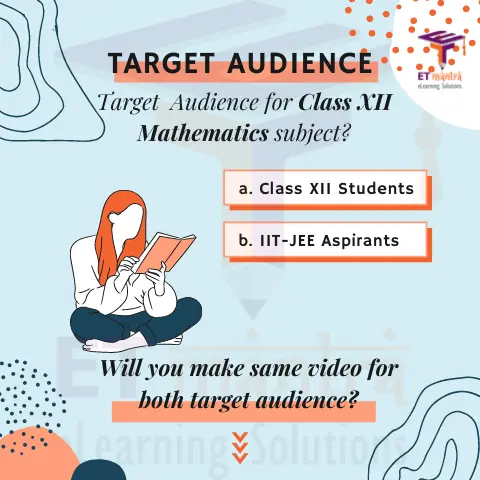 Content's preparation, presentation and level changes with the target audience and this is why it is very important to decide your audience before you start investing your time in content development.
3. Create at least 100 videos
I believe, by now you know the importance of selecting a subject and decide your target audience. After you have done both of these things now start making content and don't stop until you create 100 videos. Yes, it may sound crazy and a lot of work but you have to do it to become successful. Students want a complete package because only a complete package will help them to achieve their goals. This is why it is very important to create all the content of the subject you have selected for your educational YouTube channel. This way you will gain students' faith and become successful.
4. Decide the video style for your subject.
Before acting upon 3rd tip, make sure that you record 3-4 videos for your content and get them reviewed. Reviews of students, other teachers and someone who has experience of video creation will help you to improve the quality of your educational videos. Review of your first 3-4 videos will help you to make 100 good quality videos and in this era when almost everyone is making videos, students expect quality videos.
I can also review your videos, You can submit your video for review by filling this form. I will review your video for content quality, presentation quality, and production quality.
5. Do not change your video style for the first 100 videos
Please understand that every student's learning style is different and students who are subscribing to your channel might have subscribed to your channel because of your style of producing videos. If you keep changing your style with videos you may lose your subscribers. So, don't change your style for the first 100 videos. This is why it's very important to follow point #4 and once decided, be consistent with the video production style.
6. Publish all videos as soon as possible
Student's videos watching patterns are different than entertainment videos watching patterns. A student will not watch an educational video as soon as he/she will get notification about its publishing. But, a student will watch hundreds of videos by searching it on YouTube if they want to learn about the topic. This is why I never recommend waiting for a suitable time to publish a video. As soon as you are ready with a video, publish it. Publish 100 videos as soon as possible on your educational YouTube channel. Later, when you are successful then you can decide and announce a publishing schedule for your videos.
7. Follow SEO rules while publishing videos
When you are following #6, make sure that you are following SEO rules to write better titles, descriptions, and keywords. Also use cards, end screens and other tools provided by YouTube to lead your audience to other videos. Don't worry you will have plenty of time learning about YouTube and tools provided by it to make you successful. Please remember, YouTube videos SEO is different than Course SEO. You must know the Importance of Online Course SEO.
8. Wait for at least 3 months to see the results
Once you have published 100 videos on your educational YouTube channel. Wait, have patience, because you will not get overnight success. Wait at least 3 months before you take any decision. If you have followed all rules from #1 to #6 you will see significant growth of your educational YouTube channel. You can spend these 3 months learning meaningful things.
9. Spend 3 months in learning SEO, marketing, etc
In the social world, it is very important to learn about SEO. It will make you successful on web 3.0. When you are waiting after publishing 100 videos, utilize that time to learn about SEO, RankPal, building your website, blog and other social media profiles. This will help you a lot.
10. Choose the language of your content for a large audience
Remember #2 about deciding your target audience. Now, this audience can be further increased or decreased based on the choice of language. When you are making videos on Mathematics for the IIT-JEE examination if you make videos in Hindi you will cover a small audience but if you make the same content in English the number of audience increases. This can create a huge impact as in the beginning your first goal is to become successful. If you are not successful, you will stop making videos and this is why I recommend making videos in a language for a large audience. In one of the posts, I talked about "why you should not make content in the local language" in detail. Make sure you read it too.
In the end, I will say that follow these 10 rules and you will be successful. I can guarantee a successful educational YouTube channel. If you still have any doubt, don't hesitate to ask me. Remember me (Yogendra Pal) and ETmantra (this website), we will provide all tools, techniques, and guide to make your educational channel successful.